Profound Gentlemen's board of directors is made up of leaders in education, business, and philanthropy who are working to ensure boys of color have reinforced images of success in and outside of the classroom.
____________________________________________________________________________________________________
Kristi Orange (Chair)
Kristi Orange, a Teach For America alumna (GNO 09), began her career in education at Samuel J. Green Charter School, a FirstLine School, in New Orleans, Louisiana as a 5-8th grade special education teacher. From 2009-2012, Kristi worked with students in the inclusion and small-group setting to focus on reading, writing, and foundational math skills. Most notably, Kristi created an alternative writing curriculum for students with reading and writing disabilities, resulting in 97% of students reaching proficiency in 2011. Kristi's leadership extended beyond the classroom when she created and led the School Culture Cadre, a committee designated to create and maintain a positive behavior support system for all 1,200 students at Ranson IB. Not only did this committee provide incentive opportunities for students, but also was the starting point for streamlining culture through the school through means of professional development for all 70+ staff members. Kristi holds a Bachelor of Arts degree in English—Writing Emphasis from Hope College in Holland, Michigan. She also holds a Master of Arts degree in Organizational Leadership from Teachers College, Columbia University in the City of New York. She currently lives in Charlotte, North Carolina with her son, Jordan, and dog, Maddie.
Michael Tensley (Treasure)
Michael Tensley is a native of Columbia, SC and an alumnus of Furman University where he graduated cum laude with a Bachelor of Arts in business administration. In 2012 Michael joined Acosta Sales and Marketing, a national broker for consumer packaged goods companies, where he completed Acosta's two-year Leadership Development Program before joining its Delhaize America Team as a business manager. During his time as a business manager, Michael has worked with a variety of companies in successfully leading and implementing their strategic initiatives at Delhaize America. In the fall of 2016 Michael will begin his MBA at the Tuck School of Business at Dartmouth College as a Consortium Fellow where he will focus in marketing and general management. Michael is a mentor for Big Brothers Big Sisters of Greater Charlotte as well as a member of Kappa Alpha Psi. One of Michael's favorite quotes is from the 2013 film Lone Survivor: "Anything in life worth doing is worth overdoing. Moderation is for cowards."
Wendall (W.C.) Garth (Secretary)
Wendall Garth is a native of Cleveland, OH. In 2010, while attended graduate school, Wendall started teaching in the Baltimore area. During his tenure in education he has held the following positions: Vocation Instructor, GED Teacher, Business Manager, Vice Principal and currently Director of Operations. Wendall holds a Bachelor's Degree in Business Administration-Marketing from Central State University, M.B.A. from Morgan State University, M.S.A. from Central Michigan University and currently pursuing a Doctoral Degree in Education. Wendall is currently licensed through the Ohio Dept. of Education as a principal, school business manager and school treasurer. Wendall's favorite quote is "Live it to the fullest"
Dominique Stone (Gentlemen Member)
Dominique Stone is the family engagement director at Sedgefield Elementary School. Stone, who has served in various roles of the educational field, studied Child Development and Family Studies at North Carolina Agricultural and Technical State University in Greensboro, NC. Stone is also studying social work at Johnson C. Smith University. In addition to his work with Profound Gentlemen, Stone is also a member of the National Association of Black Social Workers, serves on the Board of the Parent Teacher Association at Sedgefield, and actively participates in the Charlotte community. Stone is respected for his authentic leadership and commitment to the fight for social and educational equality; especially for male youth of color. Stone believes that social activist, W.E.B. DuBois, said it best: "Children learn more from who you are than what you teach."
Sabrina Davis
Sabrina Davis born and raised in Frederick, Maryland is now a resident of Charlotte, North Carolina. Sabrina graduated Summa Cum Laude from Johnson C. Smith University, with a Bachelor's of Arts Degree in Communication Arts in May of 2012. While at JCSU she became a proud member of Alpha Kappa Alpha Sorority, Incorporated, served at the Editor in Chief of the JCSU Student News, and was the elected Vice President of Institutional Advancement on SGA. After her graduation, she joined the 2012 Teach For America Corps. Sabrina committed to serve two years in Charlotte at Cochrane Collegiate Academy where she taught 7th Grade English Language Arts. At Cochrane, Sabrina served as her grade level's Team Lead, and the coach to the YAK Step Team. Sabrina joined staff at Teach For America in the summer of 2014 as the new Manager of HBCU Recruitment supporting HBCUs in North Carolina and South Carolina. In July of 2016, Sabrina left TFA to return to her Alma Mater as JCSU's  first Alumni Relations Program Officer. In this role she has the opportunity to explore the complexities and intersection of higher education and development.  Sabrina is honored to sit on the Board of Profound Gentlemen which aligns to her personal life's missions to ensure that every person has access to an excellent education.
 Marcus Brandon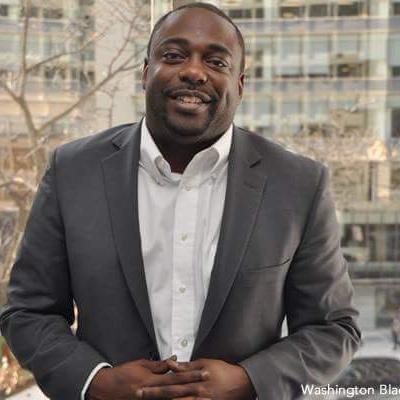 Marcus attended Southern Guilford High School and graduated from North Carolina A&T in Greensboro with a degree in Liberal Studies: Race, Culture and Class. Marcus demonstrated his long-held passion for service to his community by serving two terms as state representative in the North Carolina House of Representatives. Before becoming a legislator, Marcus worked in national politics for progressive candidates and organizations. He served as national fundraiser for Dennis Kucinich, major gifts officer for Progressive Majority, deputy director of Equality Virginia and finance director for U.S. Senate candidate Jack Carter, son of President Jimmy Carter. Marcus left the General Assembly in 2014 to join CarolinaCAN to continue the work he started in the House Education Committee and put North Carolina schools back on top.
 ____________________________________________________________________________________________________
Advisory Board Members
James Ford- 2014 Burroughs Wellcome Fund North Carolina Teacher of the Year
Dr. Chance Lewis- Carol Grotnes Belk Distinguished Professor of Urban Education at the University of North Carolina at Charlotte.
Kim Graham-Development Director for the Bank of NC
Archie Moss- Resident Principal at Bellevue Middle School
Tim Hurley- Executive Director for Teach for America, Charlotte
Chris Goins- Founding Principal of Noble Butler College Prep